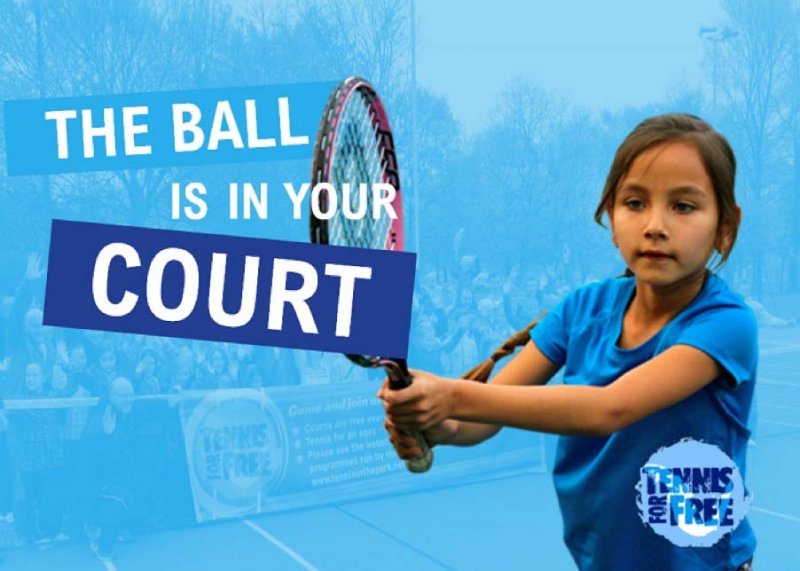 About the campaign
Tennis for free, a UK based community sports charity with over 70 sites in parks nationwide, are launching a new awareness campaign, to firstly, raise awareness of mental health and secondly to provide information and resources that can help people make a difference to their state of mind. 1 in 4 people will experience a mental health problem each year in the UK. Although mental health problems can be difficult to spot, it doesn't make them any less significant than a physical health issue. Our page includes various resources, news and information regarding our campaign so feel free to look around.



How you can help
We want to ensure our campaign reaches the people who really need it. And, there are numerous ways you can help.


On Social
| | | |
| --- | --- | --- |
| Like | Share | Tag |
| Please follow our campaign on Facebook, Instagram & Twitter. We will be using the hashtag #TheBallIsInYourCourt so please like and share our page | Share your stories with us. You can click the link below and submit a video or statement. We will aim to share many of the stories we receive. | If you are concerned about someone's mental health. Tag them in one of our posts and direct them to this resource. |
Resources
Mental Health UK. Mental Health UKworks across England, Scotland, Wales, and Northern Ireland to improve the lives of people with mental illness https://www.mentalhealth-uk.org/


Time to Change. Time to Change are a growing movement of peoplechanginghow we all think and act about mental health problems.https://www.time-to-change.org.uk/


Wellbeing Centres
We are pleased to provide a list of wellbeing centres located close to our venues, if you would like help or advice why not reach out and contact a centre? Wellbeing Centres List

Your Stories
If you would like to share you story with us, then please click the link below. We will aim to publish as many stories as possible. Submit your story here

The benefits of TFF on mental health.
You already know that sports like tennis are beneficial for your physical health. But there's more good news. In recent years, research has also found that sport participation can positively affect your mental health, reducing depression, improving self confidence and feelings of isolation, Tennis For Free sessions in particular are designed to address most of the main issues facing society today.